Op Ed: Will Monetizing Everything Leave Room for an In-Game Economy for EQNL?
In just a few weeks, EverQuest Next Landmark will begin allowing mid- and top-tier Founder's Pack purchasers into its extra-early Alpha test. While a shroud of secrecy remains, we've confirmed that Landmark will launch with a single player race — Human — a single class — Adventurer — and in lieu of any combat or quests, just one all-consuming task: World Building.
According to PC Gamer's splashy 18-page interview with Dave Georgeson about Landmark (and its fully realised MMO cousin EQNext expected in 2015), SOE will be looking to recoup its staggering development investment in EQNext post-haste. Zjeven, freelancing for EQNWire, takes a closer look at where (if anywhere) the line will be drawn on the ever-present Marketplace cash shop in these upcoming games, and ponders whether an in-game economy will have any chance to flourish.
by Zjeven
EverQuest Next Landmark has been getting quite a bit of attention in the press lately, and who could really blame both players and the media for being excited about the game?  After SOE came out swinging from its convention back in August, the hype train following its big next gen title(s) has been massive to say the very least: garnering several awards, including "Most Anticipated" and "Studio of the Year" from a plethora of different news outlets.  I found myself animated much the same; while I'm not exactly one for games like that, I can understand the immense appeal to a creative game like Landmark, as it gives people more power in their building and expression than games like Minecraft have ever managed.
This excitement has netted SOE an excess of interviews in which its creative leads espouse their massive enthusiasm for the upcoming release.  One such recent interview was done with PC Gamer, a magazine that put Firiona Vie smack dab on the cover and touted the coming revolutionary "Double Feature."  While the article written by PC Gamer was full of great ideas, one paragraph in particular stood out from the rest, where they summarized their discussion with Dave Georgeson about Player Studio and how it would interact with the game.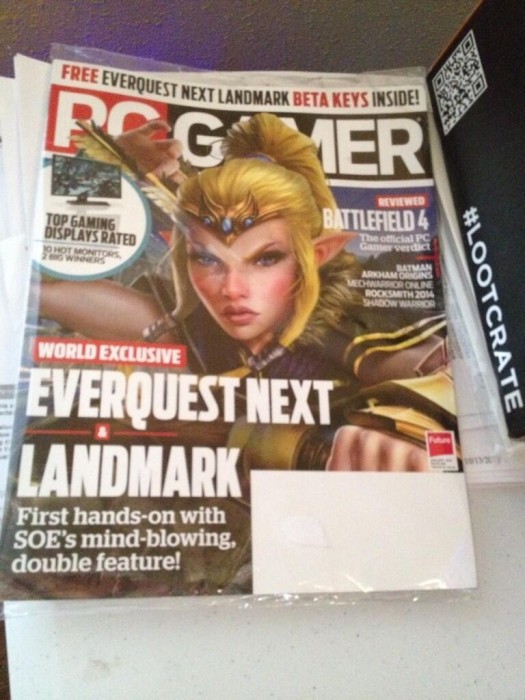 "Just about everything in Landmark can be sold for cash," The article stated, paraphrasing information that it had garnered through its interview with Georgeson, "Got in early with the Founder's Pack and claimed some super desirable real-estate?  Sell your plot.  Dug out a giant cache of diamonds?  Sell that, too."
continues after the jump…
Let that notion settle in your brain for a moment: Effectively, near everything in EverQuest Next Landmark, or every valuable resource that could possibly be sold in the in-game economy, be it the materials that you build with or the land that you build on, can be bought and sold with real life cash.  The entire game's economy can and will be able to be sold for dollars over bronze, silver, gold, and platinum.
In essence, I can understand why the decision was made to do this. It effectively allows everyone to participate in Player Studio. The ramifications of this on the game as a whole, though, have the potential to be radical and disastrous.
Put aside the notion that you, as a player, will likely be able to make money off of this.  Then, think about this from a game design and upkeep perspective, specifically when it comes to the economy of EverQuest Next Landmark.  By giving players the option of doing so, you create two very distinct player economies within the game. If I were to hypothesize correctly, one of those economies will do much, much better than the other.  The real life cash economy has that draw to players of allowing them to make money from simply playing the game, and thus, most players will likely want to participate in that.  By most players participating in that economy instead of the in-game virtual coin economy, more goods end up for sale for real life cash instead of virtual currency.  When more goods end up for sale for real life cash instead of virtual currency, you effectively create a virtual economy that then operates entirely off of real life cash.
In essence: if you want something, you have to whip out your wallet for it.  Not your character's wallet, your wallet.
SOE Is banking on this, I'm sure.  They want players to put their money on the table, because at the end of the day, they benefit.  Every time you sell something, they get a cut.  Every time you buy something, they get a cut.  By making Player Studio the "go to" economy, they make a lot of money.
This is only the tip of the iceberg, though.
Player Studio, as an entity, is only accessible by SOE's American audience.  Unless something changes, customers in Europe or Canada, Australia, Asia, Africa — wherever in the world they happen to be —  won't be able to sell anything in the Real Money economy. We've already discussed the likelihood of Player Studio shadowing the in-game economy due to the lure of making cash, but international customers will only be able to participate in a piece of that equation. Basically, if you're a European player, not only will you likely be expected to participate in this cash-run economy to be able to purchase materials or land that you want or need, you will not be able to in turn sell anything back into it to make back the cash you spend.
Put this all together and you have a recipe for something extremely dangerous. You risk creating an economy where everything in the game takes on a real cash value, and everyone is thus expected to participate in that real cash market in order to break away from isolation as a player. It's a reckless marketing move, one that risks shutting out its international customers, creating an economy that is dominated by real world money.
Dave Georgeson calls it a "sub-market" or "sub-culture", but considering there are very real examples where things like this have been attempted (Project Entropia comes to mind), and there are very real consequences for implementing systems to this extent , I don't think "sub-market" would be the right word to use. Considering its likely prevalence in the game itself, it might very well shadow the virtual market that it exists beside.
This isn't to mean that Player Studio as an idea is bad. Its implementation in the EverQuest Franchise and Planetside 2 is a testament to how successful a program like that can be. It rewards players for expressing their creativity, allows them to see that creativity put into a game as an art asset, pays them for that effort, and then relieves some of the burden on SOE to keep the Marketplace stocked with new goods. Everyone wins with that. When its implementation into Landmark was announced, the understanding was that it would work the same way; creative expression is a part of the game, therefore, your creativity could be sold for cash just like it would in EverQuest and EverQuest II. The spirit of the program should remain the same. Creativity should be rewarded. Yet Player Studio should not transition itself into a full RMT auction house. To me, that is taking it a step too far. 
But that's the direction that EverQuest Next Landmark seems to be going.  It takes a concept born in imagination, and turns it into full-scale Real Money bazaar.  I understand that a game company needs to make money, but it shouldn't do so by sacrificing the integrity of a popular program.  Landmark is a game that was perfect for the idea of Player Studio, and the game has the opportunity to very easily balance the contributions of players and the swiping of the credit card.  It simply seems a shame that the decision was made to instead take it down this road.
Trackback from your site.