Updated SOE Live Schedule for iPhone, Android, Windows Phone 7, Palm, and BlackBerry
Greg's SOE Live Schedule for iPhone/iPad
Greg "Rothgar" Spence, now Lead Programmer for EverQuest Next, has updated his popular SOE Live Schedule app for SOE Live 2013!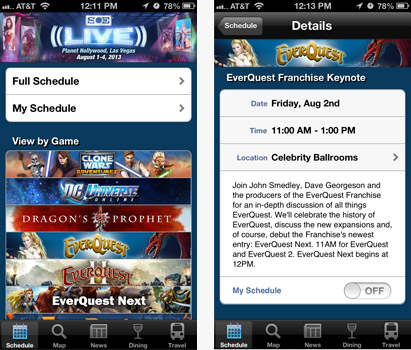 Greg developed this iOS app three years ago and, in his extremely limited spare time, has maintained it every year for SOE Live, adding Retina and iPhone 5 support over time. This app has a "My Schedule" feature which lets you choose which panels should appear on your schedule, as well as providing Dining and Transportation information.
From the Apple Store's product page:
SOELive is your official guide to Sony Online Entertainment's SOE Live convention. Access the full list of panels and events and even build your own custom schedule. View maps of the convention floor, keep up-to-date with a live news feed, view a list of nearby dining options and access important travel i0nformation.
EQNWire's SOE Live Schedule for Android, Windows Phone 7, Palm, Symbian, Blackberry, and iPhone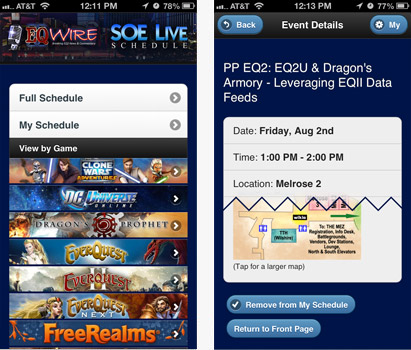 Our own Dethdlr, Lead Programmer for EQ2U, saw the need for an Android app and stepped up to develop a web application which works on nearly all smartphones, even in airplane mode!
New for 2013!! I have managed to get LocalStorage working, which means that we now also support a "My Schedule" feature where you can pick your panels and view them in one schedule page!

The EQNWire SOE Live Schedule "web app" is really just a skinned jQuery Mobile website that uses same data as the official SOE Live app, but was designed to work in offline mode as well. It works on a large number of devices, but you may experience flickering and a bit slower performance than you would see in a native app.
Using the EQNWire SOE Live Schedule app
There is no app to "install". Simply visit the EQNWire SOE Live Schedule website on your phone and then Add a Bookmark to your Home Screen. This will add an icon to your phone's home screen that lets you access the SOE Live schedule immediately.
NOTE: On some devices, unless you save it as a Bookmark first, you won't get the proper icon added to your Home Screen.
How can I share the app?
If your phone has a QR Reader App, you can simply point it at the graphic below and you'll be taken to the appropriate website: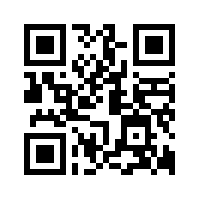 If you have any questions or comments about the SOE Live Schedule app, please feel free to post a comment below!
NOTE: Rage comments about Android vs. iPhone will be deleted on sight.
Trackback from your site.